hahaha, i am a bloody fuckin idiot
i see what i did. i reinvented....hah... if ya can call it that... the PRESENCE control. just like in an amp, you can use feedback to "voice" your circuits. sometimes. at least thats what i did.
so in the interests of what the fuck, here ya go. no sense hiding it lol its nothing even new i don't believe. that said,
IT WORKS FUGGIN GREAT.
a tone control without all the volume loss. seriously. after messing with this, the only way to fly if ya don't wanna have to mess with a lot of crap to get your gain back.
anywhos, this is a kinda neat hybrid pedal with a stupid amount of tones. it is an octave overdrive. you can get octave up sounds on your treble pickup pretty much everywhere if ya have the phat control down all the way and the lardaciousness pegged. (actually, lardaciousness would be counterclockwise really... cranked up its toothy). think of it as a tone control. cuz thats what it does. one side is a very slight amount of treble reduction. the other side gives a nice nasal woman tone... well.. a little smoother than nasal all the way down. one pot, two caps. easy breezy.
phat sweeps between a treble booster (literally, its a fuckin FAL treble booster front end) and full range boost. the more you turn it up, the phatter it gets. turned up, the octave aspect disappears until you hold and sustain a note. then it will bloom usually really nicely, and usually harmonically. right about 1:00 is the shiznit for me.
monkey is a bias control. i chose to use it strictly as a variable resistor and not tie the input pin to the wiper as it
A: sounds different
and
B: doesn't let ya quite get the gated starved thing when the pot is turned all the way down. with that pin open, you can get a slightly more gated tone than if it was tied to the wiper. you can sweep from gated to sweet to a nice level of fuzzy dirt with it.
balls, obviously, is balls. crank that shit right the fuck up. about 1/2 way is earbleed. beware.
it cleans up just like a fuzzface, but retains a bit of dirt... almost sounds like one of them boss accoustic simulator pedals if ya have the right combo of pickups and volume dialed in on your guitar.
literally every number on the volume knob will sound different. you can go from accousticish to clean to overdriven to crunch to distortion to fuzz to octave right from your guitar. the octave thing is most prevalent in solid state amps.
due to the nature of the treble booster ge front end, it "chimes" like a vox, too. ya get intermodulation distortion like a vox, too. in a good way. very trippy.
has a highish impedance front end and a lower arse end, so should play well with other pedals. i like it before as well as after fuzz... different animals.
i am exploiting the compression aspect of led's... they clip late but hard, and since i don't actually drive them into conduction, i can use the clipper to "compress" the sound a bit. in conjunction with the 47p cap between the red led's, it gives me a noise gate that cancels out a substantial amound of the noise and crud this circuit was making. it still has a bit of hiss to it, but to mis-quote mike mathews, hey, if it does what ya wanna and makes some noise.....<shruggs>....
you can use any old ge and si q combo you like. i been on the mpsa06 kick just cuz i gotta huge bag of 'em.
i intentionally did not check the gain of the ge q. i just grabbed the first one i saw, and soldered it in there (this grew out of hacking on an earlier design)... i've built a few of these, same deal. the circuit doesn't really seem to care which transistor goes in q1 as long as the orientation is right and its an npn.
but if asked, i'd say shoot for 50-120hfE for q1 and around 200 for q2. that should be fine. higher gain transistors will work too but the bias point may need to be adjusted somewhat, and i'd do it by adding an emitter resistor to q2. start around 47r and work your way up. the smaller the resistance, the more gain. for normal q's around 400-500hfE i'd try around a 220-560r range. that will chill the gain down some, but not fuck with the tone in a bad way like biasing via the c (which i think may affect the audio more) seems to do in some cases.
sustains like i dunno what. you can sustain notes or chords til your fingers fall off.
yeah yeah, you read this going, ""damn, pink's an asshole that types too much shit"" and you'd be right.
try this shit on your breadboard and see what ya think.
i present to you the lardacious phat monkey balls octave overdrive fuzz
what a fuckin mouthful..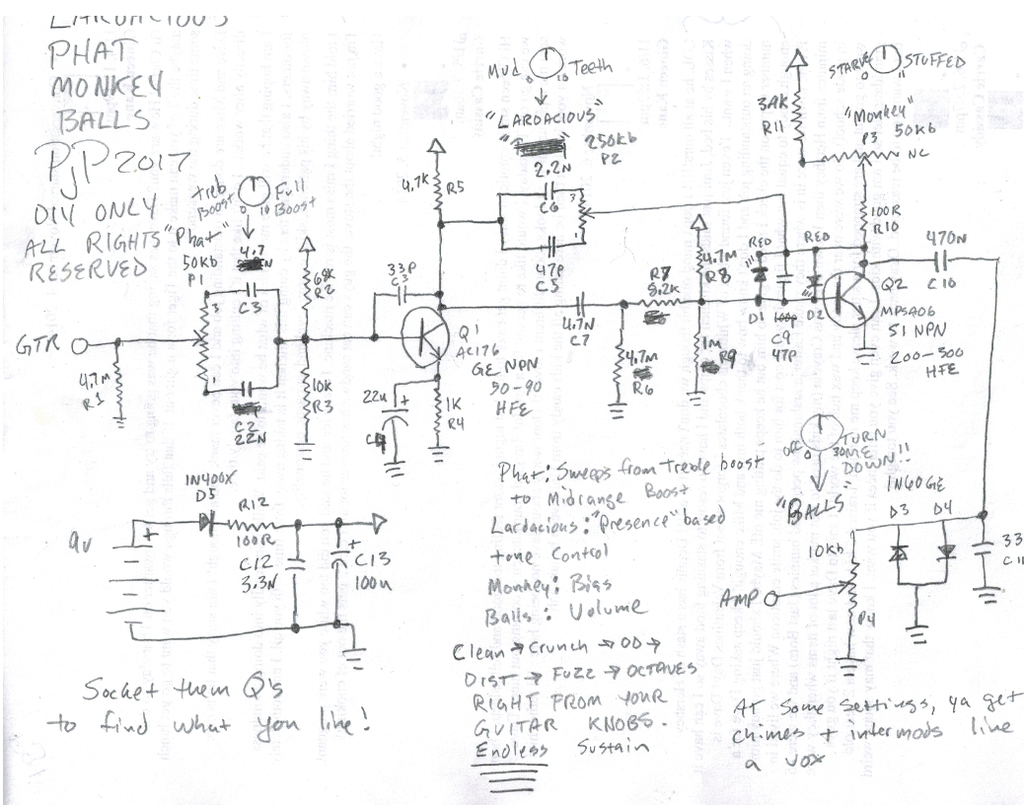 stupid pedal trick will come sooner or later.. peace