i gave my venerable ruby away recently... well, traded it, believe it or not, for a 100 watt kustom head. the guy didn't want it, and i wanted to
give him something for it. he really seemed to diggit.
so i was toiling in the dungeon earlier, dicking around and decided i'd build another.
sounded just like the first, but i was like... man... this thing just ain't loud enough, and needs some balls.
so i decided to try a cheezy little overdriver i'd worked up as a front end. wouldn't ya know it, it actually sounded pretty good!!
much louder, definitely marshally in a fuzzy kinda way... cleans up nice from the guitar. i like it pegged best, of course.
tested it with a bunch of transistors, it's sweetest with a lower gain, hfe somewhere around 175 (2n4401). i tried a bunch of transistors,
including of course some NPN ge's, but to my ear it sounded best with an mpsa6515 with a hfe around 415. you can go higher or lower of course, but that's what sockets are for.
also experimented with various diode clipping including led's, 914's 1n34/60's and finally settled on back to back 1n4001's. gave it more volume, and just the right amount of breakup. ge's sounded REALLY sweet, but ya lost a lot of balls. led's were louder, but ya kinda lose some of the distortion. combos were good, asym/sym etc etc. ge's and led's sounded really nice too.
there's a couple parts that could probably be lost from this, i'm presenting it as it was built... two separate boards, but this is the circuit that's between them.
if ya take a line from the node at volume 1 and the 47n blocking cap after the jfet, you can use it as a line out to drive another ruby
i tested it with an old 2x12 checkmate cab i had, 4 ohms. loud enough to piss off the girlfriend easily.
i used a 386
N
for the ic, i am probably wrong but if memory serves you can get almost a watt out of this particular 386.
i'd say socket and experiment with Q1 and d3-d6
i'd imagine a 500r gain pot may be better, but haven't played with it yet.
i'd reccomend making the 10r off the output a half watt resistor, maybe 1 watt. but that's probably just me.
should probably tie balls 1&2 together, but it seemed to sound better when pin 1 is left unconnected.
anyways, enough of my blather. this is presently built on two boards frankensteined together with my breadboard.
it's an easy build, not a lot of parts, and if ya always thought rubys were great little amps, but needed more balls, check it out.
first the obligatory horrible hand drawn schematic: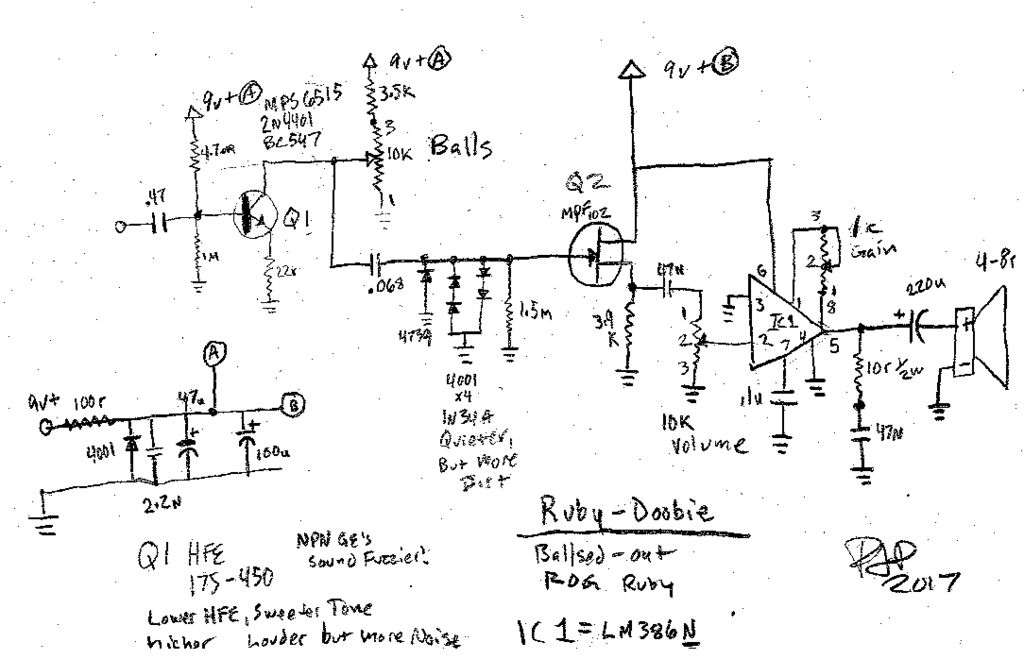 and a really rough pcb/perf kinda layout which could use some reworking and should definitely be smaller!!!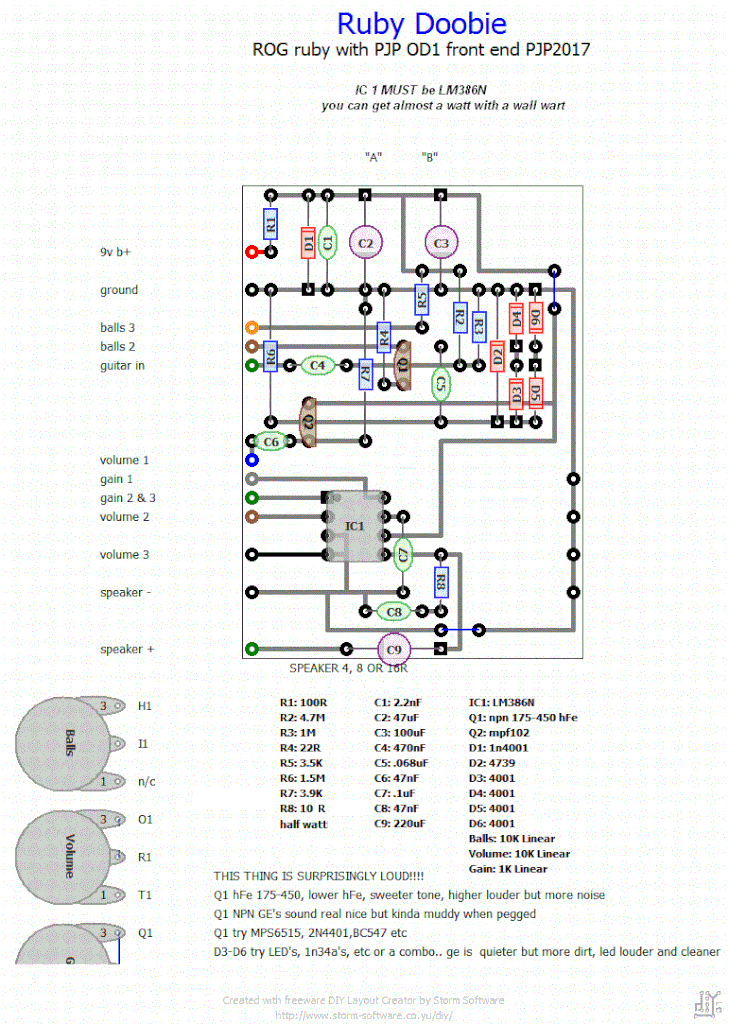 stupid pedal trick to come sometime soon... there's a backlog of them. be afraid....
anyways, check it out, if a brave soul ventures here have fun and let me know whatcha think!