Link
build yourself one.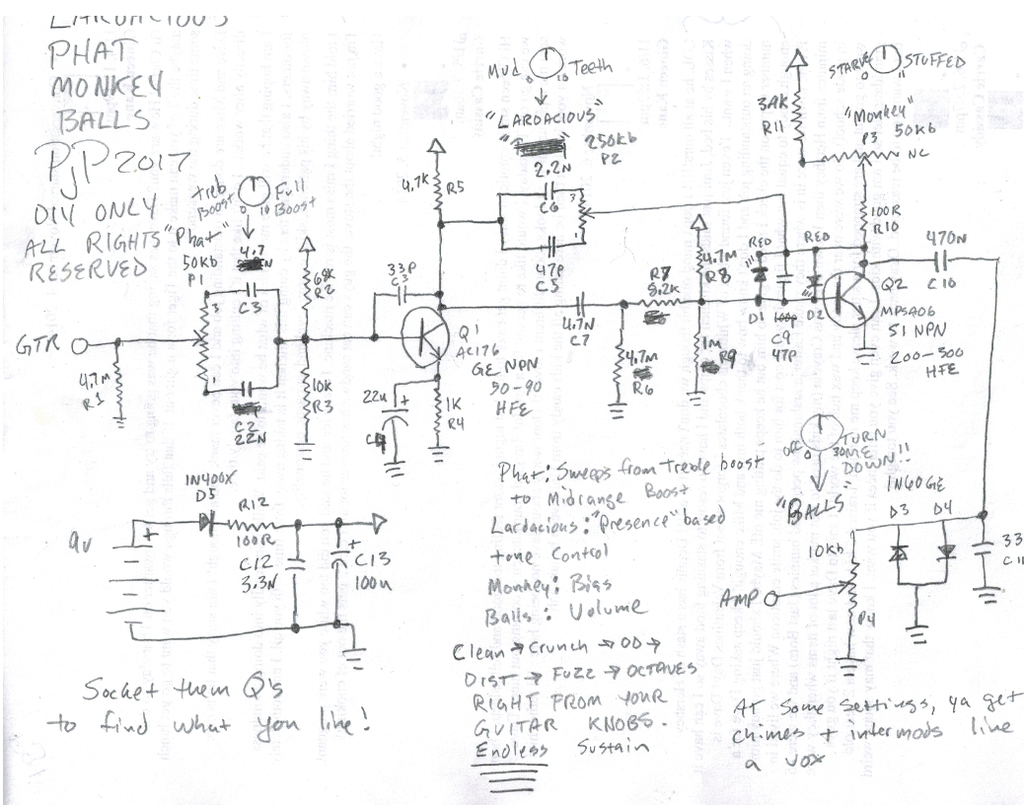 one fuzz to rule them all? naaaaaaw.... but a little bit closer
lardacious
is the tone control, it uses a curious feedback arangement that is not as lossy as standard tone controls. it combines adjustable feedback with a faked variable cap to achieve a wide range tone control with minimal loss.
[b]phat
[/b] pumps up the low midrange. to the left of the dial, its a treble booster, to the right more mids and lows as you turn it up
monkey
is a combo bias/starve control for the second transistor. it lets you dial in everything from very blatty broken gated fuzz to a very smooth overdriven octave up fuzz when pegged. the more ya monkey with it, the more sounds you can find.
balls
makes you deaf, so turn the motherfucker down!!! seriously, this thing is unity gain around 12:00.
a whole lotta tone for two transistors.
q1 should be ge. i purposely did NOT measure it before i put it in. i wanted to do a circuit where anything would work as long as it was ge and npn. so socket and tinker.
q2 should be silicon. i spec mpsa06 cuz i currently have a love affair with them, but any qs around 200 should be fine. if ya need to use say something with an hfE of 400-500 or so, add in a 47-100 ohm resistor between emitter and ground. that will help get the gain where ya want it without fucking up the tone too much.
this thing will sustain literally forever. the video, too long for sure, just touches on all the crud ya can do with it.
when i get around to making a vero, will post. i think i can stick a fork in ths one. try it on your breadboard i think you will be very pleasantly surprised.
peace out
PjP
ps: c11 got cut off a litle and is 33 picofarad