so i been messing with russian analogs of more common tubes, and my new fav is the 6n2p. they're cheap, robust, plentiful, and have a really great presence in the midrange going on.
they're only for fender style 6.3volt heaters.... some 12ax7's sockets are wired up for 12 volts, the 12ax can do 6 or 12, but the 6n2p can only do 6. but 6.3 is fine.
to start, go to tubedepot or whatever and get some socket savers, the kind that have a screw running thru them. check the pics.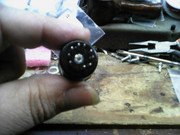 unscrew the screw, and set the washer and screw and nut aside. i stand it up to unscrew it so the little nut just falls out. this is what the guts look like
here ya can see where i bent pin 5 across <with a slight arch in it to accomdate the screw>
and connected it to pin 9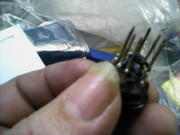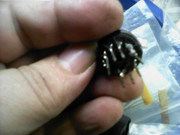 here ya can see where i used my fiskars to nip away pin 9 from the socket where the tube will be installed. first i cut up by the phenolic as close as i can, then a little bit below where i soldered pin 5 to pin 9. the pin is stiff enough to support the soldered on post, make sure ya get a good joint before ya snip it.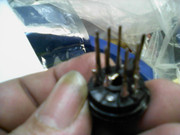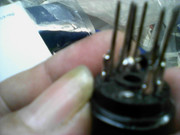 pins stuck back thru the phenolic... note no pin 5. be careful with tube insertion, as effectively there's now two possible keyways on the tube. you could take a piece of medium paper clip and solder it to pin 4 if ya really need a pin 5. i just said the hell with it.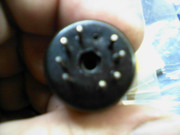 some peeps suggest leaving pin 9 connected to pin 8, the cathode, but then you're floating the shield above ground potential cuzza the cathode rc networks in most guitar amps. since its just a shield no need to even bother with it. when i did connect to the cathode i got more of a hum. you also don't want it connected to the heater supply, as it would be like an antennae i'd imagine.
anyways.. easy breezy, way easier than i thought it would be. here's the assembled socket sporting one of them beautiful tubes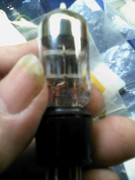 and here's a crummy shot in action inside my pro reverb, first tube <dry channel>
so .... if ya been wondering, this is how ya do it. its easy, and the tubes are cheap and sound freekin great!