sent the following to
info@tonereport.com
earlier:
"so my bro digi2t from diystompboxes.com sends me this:
http://www.magazine.tonereport.com/mag/ ... 102477/p22
this is MY circuit down to the very values. it was released as a diy project with no commercial use whatsoever allowed 3 years ago on diystompboxes and ....com. this is easily verifiable. a quick google search for "suzy q overdrive" or "suzy q harmonic clipper" will find the layout, the veros, the schematics,even the build history and experimentation along the way.
it is even featured on tagboard effects.com under pjp in their popular brands section with my blessing.
so i see two issues. one, i feel my design and efforts, as well as the guys who helped me like dino tsiptsis and gus smalley and mark hammer and rg keen should get some kind of mention. the cat submitting my work is a plagiarist, and did so with no permission as i assume yours is a commercial venture.
i would appreciate an apology, proper annotations of the circuit and history be applied to your publication at the least. attached will be the original schematic plagiarized and the vero layout.
this is kinda uncool, and not how we do stuff in the diy realm.
i do not mind people building the circuit or using it.
i DO mind not being given due credit when someone blatantly copies my work.
would appreciate your thoughts on this matter.
thanks
jimi pocius/ aka jimi photon/pinkjimiphoton"
SPTWPJP SUZY Q - YouTube
Inline image 2▶ 18:22
https://www.youtube.com/watch?v=7RJuIm4F6ig
Feb 4, 2013 - Uploaded by Jimi Photon
Jimi Photon ... the suzy q, a "tuck n roll" era classic amp in a box.. perfect for the old "custom" (ahem!) sound ...
dick wagner's suzy-q - YouTube
Inline image 1▶ 3:15
https://www.youtube.com/watch?v=evqTyXKRjSE
Mar 2, 2013 - Uploaded by Jimi Photon
"suzy-q" pedal, the Maestro of Rock edition with tone control for the legend among legends, Mr. Dick Wagner ...
https://www.google.com/search?q=jimi+ph ... 8&oe=utf-8
i mean, all he did was take the buffer off the thing. says he created it and drew it up and all this other shit. wtf?
i don't mind peeps building my stuff... glad to see it happen... but it says right on the schematic the guy ripped off NO COMMERCIAL USE
seems to me tone report weekly is a commercial venture.
perhaps if they gave some credit, rather than this kinda scumbaggery shit, i wouldn't be so pissy.
so now my design has become Yet Another Tube Screamer i guess.
way to go, tone report. way to go.
my final schematic: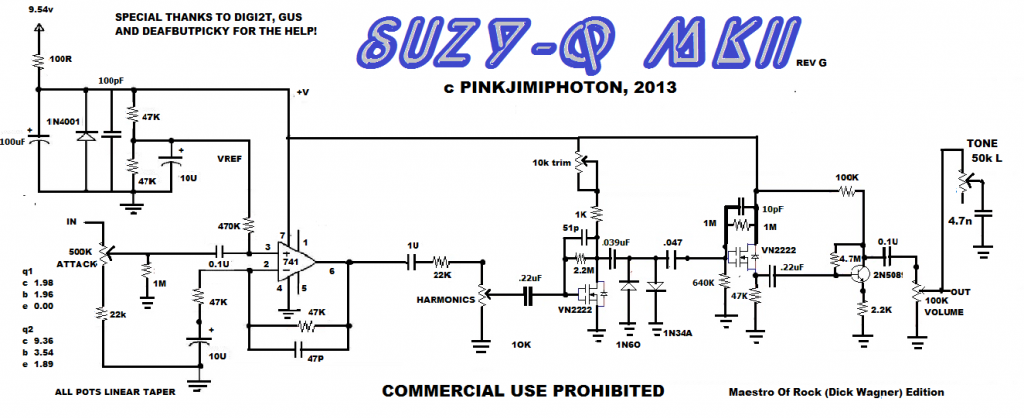 the one tone report just posted, minus the input buffer. look at the component values, the only thing he did was change the transistors
http://tagboardeffects.blogspot.com/201 ... -mkii.html