cue fog machines, cue twilight zone music, he's back again with yet another stupid episode of how to mutilate your beautiful expensive guitar's sound, and obiterate the effect of them beautiful expensive toneful tubes..
SUBmitted for your approval or disproval in which case i don't care so go away and soak thy head in a bog or something....
here's uncle ed's overdriver. my partner-in- crime in the luthier thing asked me if i could make him a box that would "sound just like my guitar and amp, only about 3-4 notches louder"... so i said ya want it to sound like your guitar goes to 13 for solos? he said yeah.
so just to make it safe, this goes to 15. thats one more than he required. quite a lot, actually, for his purposes
but i digress.
here's a vero and a schematic for it. as you can see it's a fairly simple overdriver. it sounds a lot like just reaching over and turning your amp up. mild overdrive on its own, but enough to kick a clean fender (which eddie plays) into overdrive. it sounds great in my marshall too tho, so hopefully it will sound good for other applications, too.
schematic and vero layout. the vero isn't built (in this version) yet but the circuit is together on the one i originally worked up for him.
believe it or not we tweaked it in til it sounded good during a 2 hour phone convo. weird planet.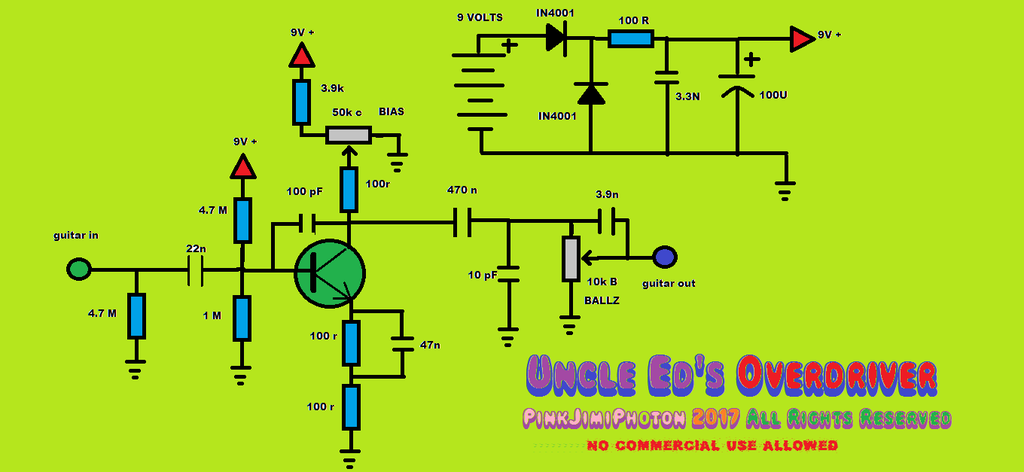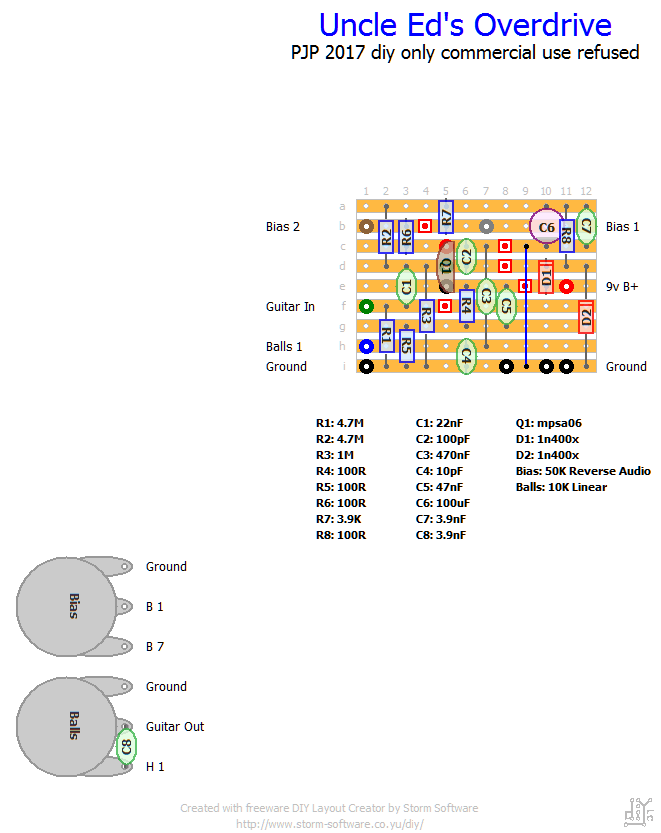 which leads to....
what do ya get when ya cross an NPN GE FAL treble booster and uncle ed's overdrive?
ya get
MONKEY BALLS!!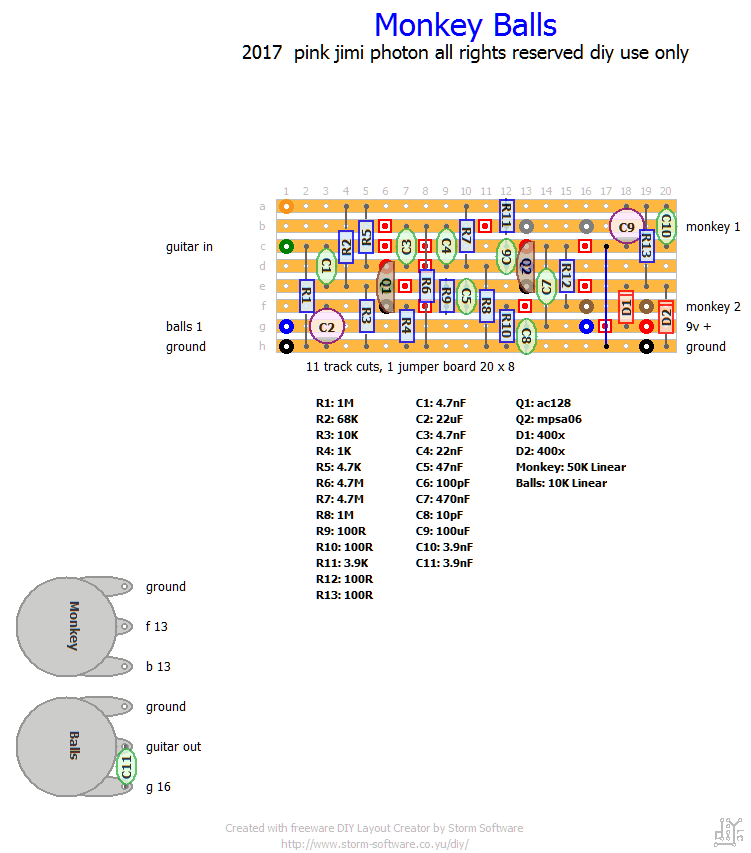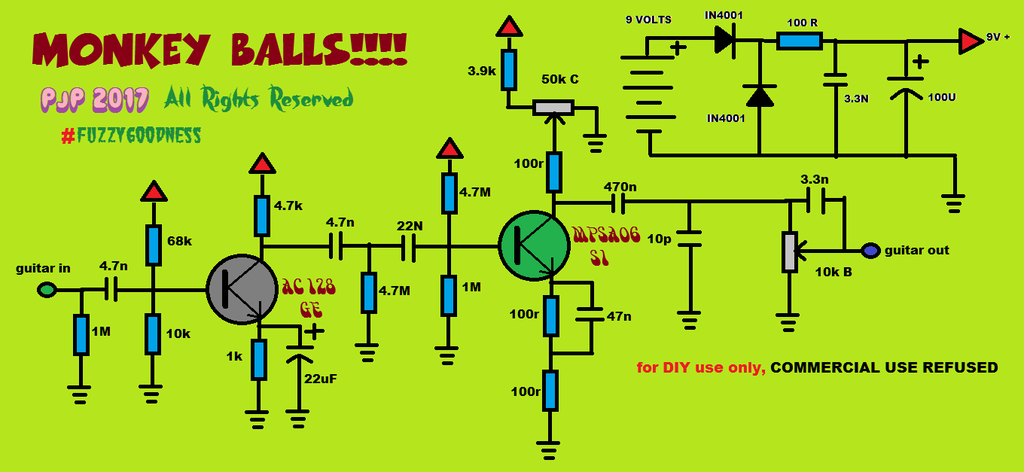 this thing is SICK. the combo of the two together is pretty slammin. into a clean fender or solid state amp, ya get an octave up fuzz ya can play chords with that will track most of the neck with buckers or single coils, neck or bridge. into a just breaking up amp it sounds like a really thick overdrive with a strong upper harmonic.
into a cranked marshall ya get ooh for days.
i was gonna put a switch in to put the treb boost part in line or out, but once i heard it i said fuck it.
you can do that if ya want.
you can of course swap out the q1 1k resistor for a pot... wire it just like the front of a fuzzface, but you'd probably just leave the pot cranked.
ac128 for q1, or any old ge. lowish gain npn. you could sub a silicon in here too, just limit the gain with a smallish e resistor.
q2, any old si that ya like that's npn. i prefer gain ranges in the 200 area here, but it doesn't sound bad with a darlington. (at least in just the overdrive alone part)
so anyways two for one deal. three, really, as ya can build the fal, the monkey balls or the uncle ed's. the fal is the input of the monkey balls to the first 4.7m resistor between the 4.7n cap and the 22n one.
polarity protection in there, pull down resistance added, you COULD probably get away with an LED clipper in parallel with the snubber cap on q2 or before the output cap to ground, but i didn't try that yet. would probably up the distortion and noise a bit tho.
why monkey balls? long story. some people would get butthurt if i explained it so best left unsaid
FUCK! just noticed i forgot the snubber on q2 of the monkey balls schem. 100p and ya can't go wrong